Ok everyone, we're truly in the homestretch now – we have less than one week until November 1st. I know a lot of people have been going really hardcore on Prep-tober, but I honestly haven't had the free time to really hammer things out.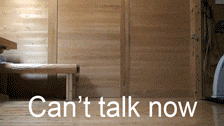 For the most part I have managed to read through my few candidate stories and make notes/edits here and there. I plan for it to remain a calm and not stressful month of writing, but I still want to absolutely get my 50k words in.
What things have you been doing for Preptober? Are you doing a whole new project, or continuing something you already started? I'm probably going to work one something existing, but only barely started – but when the time comes we shall see.
Happy writing!