We've all been there, we're going on vacation and have limited space in our bags, but we want to take all the books we need to read with us. It can be hard to decide how much luggage space to devote to books and which ones get those coveted spots. I'm currently on vacation right now and shocker, only brought my kindle fire and iPad with me for reading (gasp). I did not bring a single print book. This may not work for everyone and I almost always have a couple print books with me, but this trip wasn't conducive to it. Here are some alternatives you can use if you find you don't have room for a ton of books in your bags.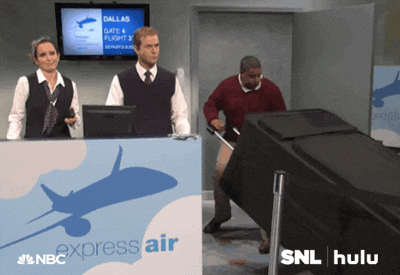 One thing you could do is just what I did, make sure you have ample reading choices on your electronic readers, then only take them. This was more easy for me as I have a pile of review books I need to get to so they are all on my e-readers but may not work for everyone.
Load your phone with audiobooks! If you have long drives or flights then they are prime for audiobooks. You can sit back, relax and ignore everyone else as you let the story unfold.
Ok, this one's hard, but here me out – choose one or two print books that you think are going to be amazing reads, then only bring them while bringing your e-reader as a back up. Let's face it, if you are on vacation then you may not have as much prime reading time, so bringing books could be a moot point as you might not get to them.
So those are just a few tips for traveling with books. Above all don't stress yourself out too much about it – you're going on vacation. If you don't bring enough books then you can probably find a bookstore pretty easily and buy one or two to tide you over. Don't worry yourself over it and cause yourself more stress.
Happy reading!